Throughout history, visual communications have been with us– as a language and used to tell stories — more than simply an "asset" to lure viewers or to make a news feed more "attractive".  As Geoff Livingston notes, visuals are more than snackable content. I suspect that the visual web and 'a-camera-in-everyones'- pocket' leads us to a place where visuals become a language of their own.  Looking at visual communications over time we can see the most effective visuals often relate to storytelling, accounting for successes and failures, as well as representing something about our values and our being.
Petroglyphs:  Imagine 300 ancient rock "art" images some dating back more than 10,000 years – visual depictions, mostly from Sharman experiences and learning following their trips through the rock crevices to other worlds where they gained insight and learnings.  As you stand alone in scrub brush, desert and mountains among the thunderbirds, elk and strange figures wearing horned headdresses, it truly feels like you have been transported back thousands of years and that the ancient people who carved the petroglyphs will appear over the horizon or step out from behind the rocks.  At which point you could have a conversations about what you are admiring.
I recently visited Legend Rock in Wyoming, considered to have some of the oldest and best petroglyphs in the "Dinwoody" tradition — rock that was pecked on the surface to create figures, such as large human or human-like figures with headdresses whose torsos are often decorated with patterns of lines.
Source:  http://www.wyohistory.org/encyclopedia/legend-rock.  A good video too:  https://www.youtube.com/watch?v=jrEW1TGDp3E).
While we call these images rock art, in fact there was a purpose.  Petroglyphs communicated three things:
Tribal Storytelling
Accounting of trapping, fishing and hunting successes
Religious traditions and teachings
In the latter case, "archaeologists now understand the rock pictures have for a long time been used as sources of spiritual power, and are still used that way now. This allows us to think of the images as windows connecting past and present, and connecting the spiritual world with the material world at hand. Like churches, temples, or cathedrals of Europeans and Euro-Americans, they may be ancient, but they can still be used for their original purposes. This is different from simply admiring them for their beauty. People went to the pictographs and the petroglyphs seeking the power they need for a successful life. "
LIFE, The Photo Story Success: Life magazine (after 1936 when it was purchased by "Time founder Henry Luce) shifted its' content from humor and general interest  to a role as a weekly news magazine with a strong emphasis on photojournalism ( sound familiar? Think Buzzfeed)
The Luce LIFE was the first all-photographic American news magazine and it dominated the market for more than 40 years, at one point selling more than 13.5 million copies a week.  Text was condensed into captions for 50 pages of photographs. "The magazine's circulation sky-rocketed beyond the company's predictions, going from 380,000 copies of the first issue to more than one million a week four months later. The magazine's success stimulated many imitators, such as Look, which was founded a year later in 1937 and ran until 1971."
Here is LIFE's First-Ever Cover Story: Building the Fort Peck Dam, 1936.  Here is a classic LIFE story about everday life from the 1940s: A Boy and His Dog: Portrait of Friendship. Or this one, The Science Teacher You Wish You Had.
Here is LIFE's iconic special issue from the 1960s, "'To the Moon and Back': LIFE's Complete Special Issue on Apollo 11".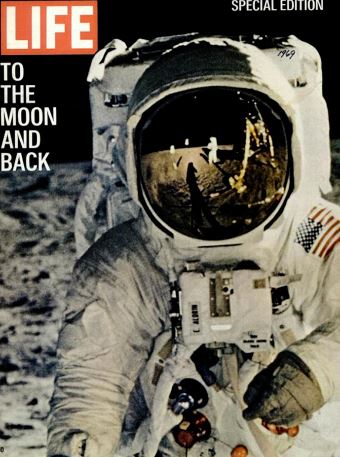 LIFE presented the everyday, it celebrated community responsibility and education, even had a moral rectitude for what it published.  The photojournalism was highly scripted with very tight sequencing and highly descriptive and powerful captioning that guided viewers to the editorial conclusions while using photos to "tell the truth" – versus underscoring that images often tell the story the person producing them wants you to believe.  Leaving that nuance aside, we can conclude the LIFE magazine was powerful visual storytelling, accounting for success and a reflection of values and being for America at that time…just like the petroglyphs did for their time.
(Hat Tip to Marty Thompson for this inclusion – I had in my notes for somewhere else to use LIFE, but seem appropriate today because of Marty).
Robert Frank's The Americans: Also in the 1950s/early 1960s we have Robert Franks visual documentary "The Americans." I have referenced this before because it represents an iconic change in photography and because his book was a stand alone visual narrative.  It speaks to the time and meticulous hard work and effort required to use visual communication as a language of its own.  In this case, again, we have powerful storytelling with no words.  The story indeed reflects also a reverse "accounting," not to mention a point of view that very much spoke to values and being.

Frank's narrative not only depended upon the images, but also the sequencing and even the rhythm.  I reference this because Frank believed that on the one hand you had to engage the viewer, on the other hand you had to challenge the viewer, leaving the viewer room to draw their own meanings.  As noted in a previous post, the standard business practice of repeating messages in a visual medium can run the risk of losing attention and viewers, a consideration to be kept in mind as we develop new visual rules for increasingly visual world.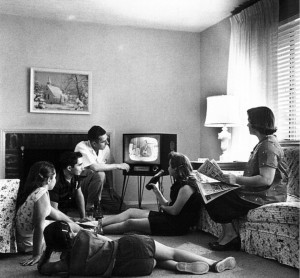 Television/Video: Of course, television and video — both visual mediums have proven their effectiveness as communications tools — even if the business models change and viewership shifts from the cable box to the Web.  It too demands its own rules such that the words match and add-to versus explain the images and are done in a way that is supportive of the brains processing of the images.  But again, in television through the ages, we can see storytelling, accounting and reflections of being and values….Name your program.  Many of these elements are there.
Visual Communications = storytelling, an accounting of successes and for values and being. In all 4 cases, over thousands of years or just over a generation, visuals have proven to be always present and a powerful means to communicate — they work to tell stories, they account for what is happening and they represent opportunities to reflect on values and being.
Get Tenacity5's Tips and ebook:  As Geoff notes in his post "We see the concept of using rich media as window dressing or secondary content as a strategic error. And we are seeing the shift in the marketplace" Im looking forward to Tenacity5's release tomorrow a blog post, slideshare deck and eBook filled with simple tips on how to use visual media on a variety of networks.
We will also continue to explore here some of the art, science and "new rules" that we might apply to visual literacy and use of visual as its own communications tools going forward….or feel free to explore some of my own visual communications from the #rockymountainroadtrip.  More after we return from the annual trip to the family cottage. 🙂