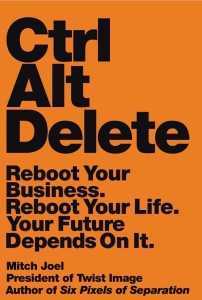 Purgatory, that's how Mitch Joel describes the current evolutionary period when technology is sending businesses (and business people) through a rapid state of genetic mutation. Mitch clearly lays out this "interim" state for business –both the challenges and the immense opportunities — for technology, business and "customer connectivity."  He does it with facts and stories to back up his perspectives, and the kind of insight and forward-looking vision Mitch is known for (check out his blog).
I found CTRL ALT DELETE refreshing, actually feeling we were on our way out purgatory after just a few pages.  It's filled with great information and fresh ideas to get you and your business moving through the transition and disruptions to that better place.  It was exciting to read this book and feel like the clear sighted vision had us on our way to that better place after purgatory.
Whether you are a marketer, sit somewhere else in a business or are an individual who is personally thinking about your career, I'm guessing you too will find CTRL ALT DELETE is full of food for thought and actionable game plans to help you move forward.   A special call out: if you work on social media for your business, are part of a social media team or leading or part of social media center of excellence: Go read the book now.  However, the book is not just about social media, its' stories and perspectives certainly related to almost everything you see, do and hear every day, Im guessing.
Don't be deceived by the two sections the book is divided into – one for business and one for you.  Do not take "the shortcut" and read only the section you came to the book for.  Read both sections if you are serious about really "getting it" and getting it all as a big picture.  Business can learn as much in Part 2 as an individual can from reading Part I. And I think the book is best as a whole, not two separate pieces.
Part 1 is written with business and trends in mind. Mitch's commentary is well-founded and gives us a glimpse of the future and how business thinking and actions have to change – he also examines some hurdles to getting over these disruptive times, but gives straight forward advice about why you better reboot and move ahead rather than stick it out in purgatory. For example:
The value and challenge of actually having a direct relationship with your customers — it changes how you work and think.  It is a big business model re-think, but its worth it, and may be the foundation of your continuing success or not;
He explores some very interesting "new possibilities" for an old concept, e-commerce, which we rarely hear mentioned these days.  Mitch breathes new life into e-commerce with new ideas that take "e-commerce" into today's era of social, mobile and customer connectivity;
Technological applications that customers are using that are opening new markets, shuttering old ones and fundamentally altering how customers consider business and loyalty;
The power of "usefulness" and value for customers (versus coupons and your business advertising).   And just by fluke, after last week's review here, look who we find together on this podcast
Mitch's commentary about company websites, mobile versions of the website and how customer's actually use mobile phones and apps is a great ride — although I suspect a little challenging for some businesses with legacy systems that are not quite ready to "re-imagine" — but Mitch lays it out in full view.
Related to the above point, Mitch's discussion about 4 screen versus 1 screen was wonderful, with a solid point of view about mobile first.  However, I sometimes wonder whether eventually we get to the point where "the screen doesn't matter."   Do we eventually reach a point where technology is ubiquitous period (in your car, on the kitchen counter, on your phone, tablet, desktop, laptop, coffee table, the TV too). In that case it's not mobility or the screen — it's everything period.  Also, given Mitch's deep marketing expertise and mobile perspectives, I wondered what he thought about the whole notion of advertising on mobile phones – I increasingly wonder if that whole concept is a pipe dream left over from an another era.  By inference though he was very clear: useful and valuable.
I was cheering on the section about data, privacy and the impending challenges, as we have seen this issue coming, yet everyone seems to turn their head the other way.  While Mitch argues for better customer understanding about the benefits from data use, I also believe business needs to be more clear, open, transparent and responsible on this matter.  Watch out!  The regulations will kill the promise of "big data" and we will only have ourselves to blame.
The "big data" section is magic – "from mad men to math men" and "having sex with data."  My experience says he is right about the inability to digest the data at this time.  On the other hand, I often think it is interesting that the Obama campaign did a masterful job with imperfect data but by all accounts made better use of the data then most businesses do.  Waiting for perfection in this era of rapid technological change is a recipe for being left behind.
And, thank you Mitch for the section on media.  Media is fundamentally either text, sound or video.  The difference is really about whether it is "passive" or "active media."  And the layers, depth and nuance of active media are what should lead to very different thinking and approaches. Finally! What a great take on the fine points of this consideration! Im going back to read it again.
Part 2, focused on the individual, is filled with gold nuggets that go beyond your career to fundamental business transformation in this purgatory.  Mitch talks about:
"Being digital first"; the place of "transparency, openness and the importance and value of abilities to communicate in a real human way" – even with kindness — as table stakes, as well as a later section on tips to become digitally savvy.  As a side note, on the "kindness matter" it reminded me of the fears we first saw when, on behalf of Dell, we started to comment on blogs.  Perceptions (back then, and maybe some today) was that this wild west of the Web had no sheriffs. It was a place where anyone who could post and say something was to be approached with skepticism because of potential ill will and more.  My early discovery was what I came to the call the "generosity of the social web"…even when we made mistakes.
How some marketers focus on social and digital as new channels to be integrated versus exploring digital and social as a new layer at the foundation of marketing.  Wow. Again, a must read section.
The commentary about social business and the potential for the ghetto-ization of social media is very thoughtful and another must read if you care about the future and your businesses connection with others.  These real legitimate points deserve careful thought.
How the use of automated social "robots" and tweets are not only "in conflict" with what social media is about, but if they become the way of the future and are taken to the extreme (i.e. where every tweet is a bot) that destroys the real value of what Twitter is about.
Content overload and mediocrity (or what I have called the commoditization of content)
Value and importance of "niche" audiences (versus mass) and the value of "influence"
The squiggle career path versus traditional linear paths;
The issue of keeping things simple is well done. I only wish he had also underscored that the relative newness of "digital first" means the infrastructure to support it is still a "work in progress" — it just is not all there yet ( see the big data section in this regard)
commentary about business silos, opportunities for collision and innovation are all full of great thought starters.
That's just a few of the great Part 2 topics that I thought were equally applicable to every business seeking to scale in a digital and social worlds with a view to transforming themselves in a world where technology and connectivity are core to our daily work and lives (as in  Part 1).
Finally, I don't know how Mitch writes books (given his commentary in the book about linear versus circular, I suspect we could guess).  However, I was intrigued by a few concepts that seemed to re-surface throughout the book, at different times and often in different ways. He touches on "work as art."  He also talks about connectivity and real humanity, fostered through the use of technology. He touches on factors fostering creativity.  It was almost as if there was a little subliminal sub text to parts of the book.  In fact, I was so excited by these little mentions here and there, I felt slightly teased by the ground he seemed to be gently nudging along. I wanted another whole chapter going further and pulling these threads all together.
For example, he discusses giving people "space to think" as being akin to an artist's studio; he draws a similarity between the artists' tools and the gift of technology — putting all the tools we need to create at our fingertips. He talks about generating ideas, creating and thinking about business, innovation that comes from collisions among people and their ideas that solve problems and break log jams.  He notes that creativity is becoming the unique selling proposition to everything.
Creativity, connectivity, real humanity and art at work to deliver value for your business, for success and great for the career.  How often do we talk about these things in business meetings?
I didn't feel like it was purgatory.  Not one bit.
P.S Mitch: I had no idea about the music; thanks for the blogging tips, as I continue to learn. How do we get to have a "Reboot Party" in Austin, drinks too.  Thank you for the book and for your connection over the years, IRL only once, still real